I have been interviewed by several mass media, including TV channels, Radios, Newspapers and Magazines, some of which are shown below.
——————–
Radio Interviews: 
"ATHENA-984-FM": Αbout  "Ozone effect on plants".  Dec.1,  2003.
"RADIO-ENA" (Volos mubicility): About "ozone phytotoxicity in the greater area of Volos city and the nearby Pelion Mt". Dec. 1,  2003.
"ATHENA– 984-FM": About "Pollution by platinum group elements".  Oct. 27,  2005.
 ——————–
TV interview broadcasted by the nationwide  broatcasting TV channels:
"ET-1" on Oct. 13, 2007
"ET-3" on Oct. 14, 2007
—————————————-
Interviews in Newspapers
ΕΘΝΟΣ ΤΗΣ ΚΥΡΙΑΚΗΣ
Dec. 24-25, 2005 (Page 56)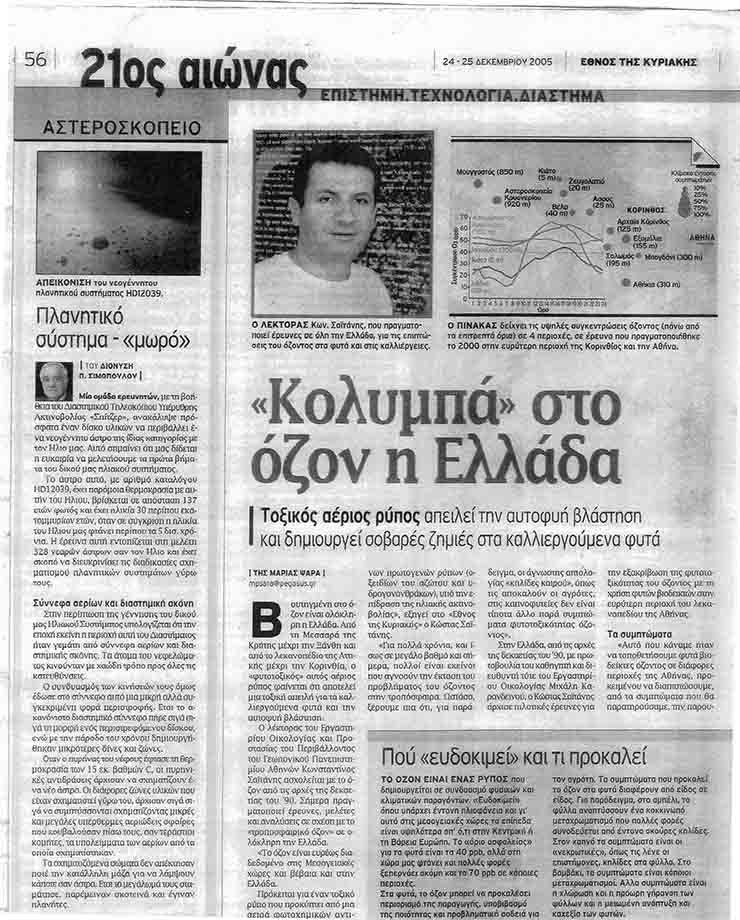 ΕΘΝΟΣ ΤΗΣ ΚΥΡΙΑΚΗΣ
Dec. 24-25, 2005 (Page 57)
ΕΘΝΙΚΟΣ ΚΗΡΥΞ – NATIONAL HERALD
Jan. 3-4, 2004 (Page 2)
——————————————–
….and in Magazines
KRAMA magazine
(inset in  the CITY PRESS newspaper)
ΤΡΙΠΤΟΛΕΜΟΣ
2004, Τεύχος 19, 13-20